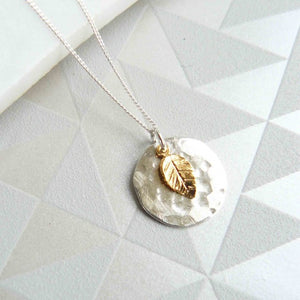 A charming necklace featuring a sterling silver hammered disc and  leaf charm in 18ct gold vermeil on a sterling silver chain. Comes with either a gold or silver leaf.
Jewellery that mixes metals is right on trend and is so easy to wear.  
All our chains have a leaf tag on the clasp.
Disc measures approximately 16mm.
Gold vermeil is 18 carat gold plated onto a sterling silver base. It is a surface treatment and will fade over time. Be careful with sun cream or perfumes, take off before swimming or bathing. Do not use metal cleaners on vermeil as you will remove the plate.